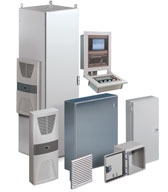 Industrial Enclosures by Rittal

Rittal's enclosures offer durable protection for a wide variety of applications in practically any plant floor environment. Whether you require a freestanding, floor or wall-mounted enclosure, or an operator interface enclosure, Rittal has the ideal solution. Available in carbon or stainless steel, fiberglass or aluminum, there's a Rittal enclosure suited for virtually any degree of protection or environment.

For More Information, Please Contact Us At:
Axis Inc.
210 Meister Avenue
Somerville, NJ 08876
Phone: (908) 429-0090