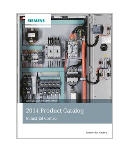 Industrial Controls Catalog by Siemens
Updated November 2015: The Industrial Controls Catalog as a single interactive PDF file.

This is an extremely interactive catalog with page links, bookmarks, and a search engine. Download it today to see just how quickly you can select products and retrieve information.
Download it now.

For More Information, Please Contact Us At:
Axis Inc.
210 Meister Avenue
Somerville, NJ 08876
Phone: (908) 429-0090