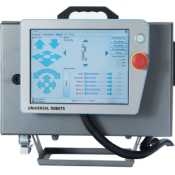 Universal Robots Controller by Universal Robots
Related Technologies:
Due to its intuitive graphical user interface (GUI), the UR robot can be set up and programmed in as little as half an hour. The user does not need to be a skilled programmer to do this, programming can be done by using the simple arrow keys on the touchscreen, - or by simply grabbing the robot arm and demonstrating the desired movement.

Universal Robots developed the GUI, called Polyscope, which runs on top of a Linux OS platform and enables easy customization for specific tasks and tools. The Polyscope programming developer platform needed for this is supplied with the robot. Free software updates are provided automatically.

The robots are equipped with digital and analog I/O ports, and interface with external equipment and other control systems such as PLC and SCADA systems through the I/O or Ethernet socket. The robot and controller can control a small cell as well as sensors, vision systems, activation of conveyors, and other external equipment.

About Universal Robots

Gain the competitive edge with our flexible, low-cost robot arms!

Universal Robots make robot technology available to all. We have developed a highly specialized flexible, low-cost robot arm that can be used in almost any industry, where traditional robots are too large, expensive, noisy or inflexible. We base our products on your company's specific challenges and with our great technological expertise we can streamline your production processes through the automation of monotonous tasks.